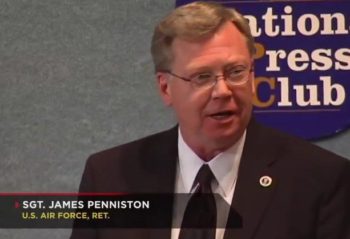 TSgt. James Penniston, USAF Retired
The Rendlesham Forest incident of 1980
USAF First Response
The Rendlesham Forest incident is the most intriguing and best-documented UFO case in the world and is 2nd only to Roswell NM in terms of name recognition; however, in truth it is a far more significant event than Roswell. There is scarcely no other UFO case anywhere in the world which can boast such a large number of apparently highly credible witnesses on two separate nights, or such a wide variety of supporting evidence that includes physical traces and confirmation by two Air forces, the USAF and the RAF, an official memo confirming the events written by a high-ranking USAF officer, a real-time tape recording made during the second night of the sighting by the same USAF officer and many more. 
In this presentation, witness, experiencer and "first responder" and ultimately investigator, Technical Sergeant Penniston will share his experiences about the investigation of a craft-of-unknown-origin, located just outside RAF Woodbridge, England in December of 1980 where his team was the "First Responders" in the investigation of the craft. This case became to be known as the Rendlesham Forest Incident and is the most documented account in military history. 
BIO:  TSgt. James Penniston is USAF Security Forces / Retired. He entered the Air Force in 1973 and served over twenty years active duty in the US Air Force. Jim was assigned to the Strategic Air Command "Elite Guard" in Omaha Nebraska, providing security for General Officers, Congressmen, Foreign Heads of States, and the President and members of his Cabinet. Penniston held key assignments throughout the world. Including service in Desert Shield and Desert Storm. He wrote defense, security, counter-terrorism, and contingency plans for the USAF and NATO. Additionally, he provided security support for Air Force One, and other classified aircraft weapon systems. Penniston held for the majority of his twenty-year career a U.S. TOP SECRET / BI / SCI and a NATO TOP SECRET COSMIC / ATOMAL security clearance. 
---
When:  Friday, January 18, 2019 at 7:00 P.M.  (doors open at 6:15 P.M.)
Where: Colorado Law @ CU Boulder Wolf Law Building
2450 Kittredge Loop Dr., Boulder, CO 80309 (NE corner of Baseline Rd. and Broadway St.)
http://www.colorado.edu/law/about/visitus
Suggested Minimum Donation: $10 at the door
For further information, please call: 480-888-5480
Presented to you by: https://boulderexo.com/ https://www.meetup.com/BoulderEXO/