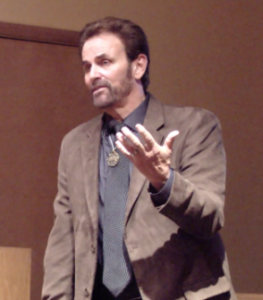 Friday, August 30, 2019  at 7:00 P.M. 
Kirk D. Bradley
A Journey through the Quantum Nexus, Tapping  the ancient and timely knowledge of Akashic Quantum Nexus Frequency
Kirk Bradley will share details about his unique path, which he calls his "Journey through the Quantum Nexus" and how through solid scientific and engineering principles, lucid dreams and surreal experiences he became deeply involved with some very ancient and futuristic concepts that are on the verge of manifesting. Intuitively and spiritually guided since childhood, Kirk was prepared for life as both a NASA scientist and a divinely inspired artist. Soon after a tour in Afghanistan, however, as a civilian water quality specialist helping the coalition troops in 2011, he began having new and startling experiences that caught him by surprise. Kirk will talk about how his innate ability to tap into the Akashic records and his almost daily "downloads from space" have served to integrate his visionary art and the new technology he has been guided to develop towards advancements for the evolution of humanity and the betterment of our Earth. He will discuss a Genesis for enhanced life in a new world that is all about interconnection and which includes each and every one of us.
---
Boulder Exo presents various speakers along the UFO, extraterrestrial, multi-dimensional, and consciousness spectrum. These presentations are given in Boulder at the University of Colorado (CU) campus and are offered generally once a month.