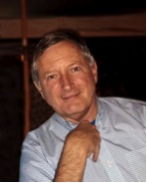 The destruction of a learning environment or worldview valued by all sentient species is reported to be the one action of a resident civilization that invites intervention. Our distant forebears recognized and venerated Earth energies that project out into the cosmos in seeming connection with other intelligences. Rigorously exploring such concepts can be daunting when establishment science doesn't recognize them and provides few tools for elucidation. Those who tackle these puzzling questions too often seek more of the same data when a broader spectrum is what is truly needed for any breakthrough. In this presentation, a local scientist will share how journeys to remote sites around the world have led to awakening and trusting subtle ways of knowing which, when applied to accepted wisdom, yields a more complete picture to paradigm shifts currently underway.
Paul's traditional training includes degrees in chemistry and systems science. He began his career as a research scientist for 3M Company and then was diverted by the Viet Nam war where he flew jet fighters. He subsequently moved to the National Center for Atmospheric Research where he conducted field experiments, then laboratory studies and eventually became a division Associate Director. He left NCAR to become Executive Director of the Cooperative Institute for Research in Environmental Sciences, an institute of over 500 researchers, faculty, students and staff at the University of Colorado. He left campus in 2006 to investigate Earth energy phenomena at remote sites around the world.
When: Friday, September 18 at 7:00 P.M. (doors open at 6:00 P.M.)
Where:
Colorado Law @ CU Boulder
Wolf Law Building | 401 UCB – Wittemyer Courtroom
2450 Kittredge Loop Road, Boulder, CO 80309
(NE corner of Baseline Rd. and Broadway St.)
Suggested Minimum Donation: $10 at the door
For further information, please call: 480-888-5480
RSVP to the Facebook Event — and invite your friends!