Rex Finfgeld – Life Beyond Earth: Humanity's Inner Universe in Outer Space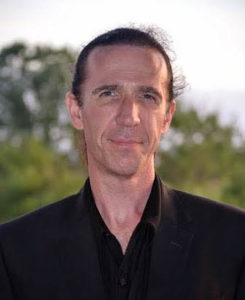 Are UFOs, NDEs, time travel, beings of light, plasma beings, ETs and the soul interconnected?
Is there a galactic council and if so, what does it have to do with the consciousness evolution of humanity?
Do we manifest individual and collective reality with our thoughts and feelings?
In this presentation, Rex Finfgeld will reveal, publicly, for the first time, his experiences of contact with extra/multi/ultra-dimensional beings prior to and after his profound near death experience in 2011.  Experiences include everything from a childhood contact with a hobbit-like being that appeared in his bedroom to beings of light without form with whom he continues to communicate.  He will give us a rare glimpse of the other side that invites us to suspend what we know about the nature of being in the universe and open to a new experience of what it means to be an extra-dimensional human in a world of shifting reality.
Bio: On April 10th, 2011, Rex Finfgeld experienced a 26-foot fall, hitting concrete head first. This was the catalyst for his near-death experience (NDE) that has proved to be profoundly transformational. Rex is DJ and percussionist. He plays in the band "Quantum Beings of the Miraculous", spreading the message of love, opening minds, and expanding consciousness. He is the producer of the show "The New Revolution" where Rex interviews people from all walks of life. The idea is to get past stigmas and see the "real person". The show covers love, beliefs, passions, backstories, and ways we can take steps towards world peace. Rex has been a martial artist for over 25 years and teaching for 12. He teaches the at of Kun Tao Silat. It's all about the movement of energy. Rex is the author of the book, "My Experiment with Gravity"
When:  Friday, November 16 , 2018 at 7:00 P.M.  (doors open at 6:15 P.M.)
Where: Colorado Law @ CU Boulder Wolf Law Building
2450 Kittredge Loop Dr., Boulder, CO 80309 (NE corner of Baseline Rd. and Broadway St.)
http://www.colorado.edu/law/about/visitus
Suggested Minimum Donation: $10 at the door
For further information, please call: 480-888-5480
Presented to you by: https://boulderexo.com/ https://www.meetup.com/BoulderEXO/