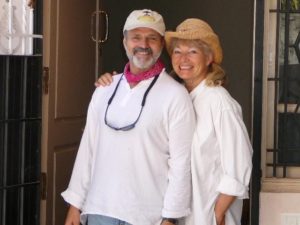 Friday, June 15th 2018 at 7:00 P.M.  (doors open at 6:00 P.M.)
Humanity is on a trajectory into the cosmic community. Never before has the light and love of human consciousness had the potential to burn more brightly. The power to know, to open to new ideas and the scientific principle of 'light attracts light' is steadily leading humanity towards bridging the 3rd and 5th Dimensions. While new energies are bombarding the planet, we are being showered with cosmic contact, sightings, visitations, experiences, and messages. What is the ultimate meaning of this hidden presence?
From perspective of The Ageless Wisdom tradition (which views all living things as energy forms in continual evolution) Linda and Simon will explore this dimensional awakening; the sustaining influence of Sirius; crop circle emergence; Brother Phillip (George Hunt Williamson)'s physical evidence of contact; Tesla; space weather's implications for the planet; and the practical application of sound, color and vibration.
By doing less and being more, and by removing obstructions to essential love, subtle strands can link us with the Elder Brothers of the Cosmic Family.
Linda K. Myers has been a student of the Trans-Himalayan Wisdom since 1992. The lineage of her studies includes the ancient texts of the Indian Rishis, Helena Blavatsky, and Theosophy, to the Alice A. Bailey books by the Tibetan Djwhal Khul. Her books: Bridge to the New Age: Through Temples Past and Future (2017);  Guided from Beyond, The Story Of the Templar, Divine Edifice for the Coming Golden Age (2012) and Light on the Mountain (2007.)
Simon Bialobroda is an architect and student of the perennial wisdom teachings. Born in Paris, France, Simon graduated from the Pratt Institute, School of Architecture; received the AIA award for innovative design (U. of California) and undertook further studies in Sacred Geometry and Vastu Shastra (The Vedic Science of Architecture.) He is the author of the book Livingness in Form (2017), which explores the interrelationship of Life, Consciousness and Form.
---
When:  Friday, June 15th 2018 at 7:00 P.M.  (doors open at 6:00 P.M.)
Where: Colorado Law @ CU Boulder Wolf Law Building
2450 Kittredge Loop Dr., Boulder, CO 80309 (NE corner of Baseline Rd. and Broadway St.)
http://www.colorado.edu/law/about/visitus
Suggested Minimum Donation: $10 at the door
For further information, please call: 480-888-5480
Presented to you by: https://boulderexo.com/ https://www.meetup.com/BoulderEXO/